Recycling and Trash Collection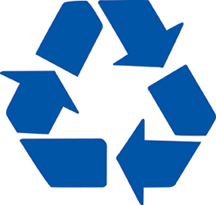 BY LAW: The City of Shamokin is required by the Department of Environmental Protection (EPA) and state law under Acts 101 and 140 to establish a recycling program and ensure all residents have waste management services. The City has recently updated its Recycling Ordinance 339 to come into compliance with all DEP regulations. All commercial establishments must recycle aluminum, cardboard, and office paper. All businesses must provide an annual recycling report. All residents must separate their garbage for recyclables. Additionally, all residents must have waste services under amended Ordinance 08-04 . If you self-haul you must be able to provide proof with weigh slips. Violation of any of these requirements includes fines of up to $1,000/occurrence. The original waste management ordinance can be downloaded and viewed here Municipal Waste Management Ordinance.

INTERESTING FACTS
In 2007 the City reported over 641 tons of recyclables collected for the year. Based upon Northeast Recycling Council calculations the City's Recycling Program has reduced greenhouse gas emissions by 488 metric tons carbon equivalent. Using that same tonnage, the program saved over 10.7 million BTU's worth of energy by recycling. Through the use of steel & glass recycling, the City's recycling program saved over 3 tons of limestone, 8 tons of iron ore, 4 tons of coal, 8 tons of sand, 2 tons of soda ash, and 1 ton of feldspar. The program has increased the number of tree seedling growth by 35,899 trees over the next 10 years as a result of recycling. The program has saved over 2,002 cubic yards of landfill space by paper recycling.

Businesses and residents that recycle help the City in many ways. Their dedication to recycling helps the City earn more money to offset other costs. The City is awarded a recycling performance grant each year based upon the recycling tonnage.

NOTE: Viewing and printing the forms and information below requires Adobe Reader. Click on the icon below to download it for free.

Curbside Recycling Collection Schedule
Municipal Waste Management Ordinance
Recycling Ordinance 339
Amended Ordinance 08-04
Recycling Report Form
Shamokin Recycling Program Brochure